18 Tutorials

Updated 01/30/17
Windows 7
At the beginning there was Windows XP, and Bill Gate said, let's there be black, and Blackcomb was born.
In 2000 Microsoft was planning to follow up on Windows XP, so they began the development of their next Windows release which was codenamed Blackcomb, and it was scheduled to be released on September 2005. Many features were planned for Blackcomb including the ability of live search, and a new storage system called WinFS ( short for Windows Future Storage). later, Blackcomb was put on hold, and a  interim Windows release was announced codenamed " Longhorn" and scheduled for release on 2003. by the middle of 2003 Longhorn had acquired many of the features previously planned for Blackcomb including the new Desktop Windows Manager (DWM) live search, and WinFS . in the summer of 2003 after many viruses exploited Windows XP, Microsoft halted the development on Longhorn, and prioritized the release of SP2 for Windows XP, thus delaying the release of Windows Longhorn.

Naming Windows 7
In 2006 when Windows longhorn was about to be released, now officially called  Windows Vista, Microsoft changed the codename of Blackcomb to Windows Vienna. however, after the release of Windows Vista, it was confirmed by Microsoft that the official name of the next Windows OS would be Windows 7. this name was chosen because is the 7th operating system released by Microsoft, and because of the version number of the OS.
Internet Leakages
On October 8, 2008 screenshots of build 6801 were leaked. on October 28, 2008 Microsoft distributed pre-beta build 6801 to attendees at the Professional Developers Conference ( PDC) which soon started to circulate on bittorrent downloads afterward. the glass Window border in Windows 7 build 6801 had a different blending style, making the colors in the background more saturated –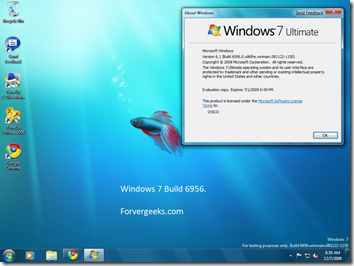 this was removed in build 700. other features that were present on build 6801 were also removed like Accelerators, RSS-feed wallpapers and Pen and Touch panning.
On 20 November 2008, Microsoft posted screenshots of build 6948 on the Engineering Windows 7 blog. in early December screenshots of build  6956 were leaked, and  on December 10, 2008, Windows 7 build 6936 x64 leaked to the Internet.
On December 23, 2008, screenshots of the Windows 7 beta (build 7000) were leaked. On December 27, the x86 version of Windows 7 Beta build 7000 leaked and quickly spread to torrent sites, and many FTPs. On 5 January 2009, the 64-bit version of the Windows 7 Beta (build 7000) was leaked onto the web.
Official Beta Release
The Windows 7 Beta was released on January 7, 2009 to TechNet and MSDN subscribers.On January 10, after a short delay due to overwhelming demand, both 32 and 64-bit versions of the Beta were made available to the public until the 10th of February. The build number is 7000.winmain_win7beta.081212-1400. Existing installations of the beta continued to operate until August 1, 2009 with bi-hourly shutdowns beginning July 1.
Release Candidate
The Windows Team Blog announced on April 24, 2009 that the Release Candidate would be available to MSDN and TechNet subscribers on April 30 and to the public on May 5. The release candidate was also reportedly given to OEM partners and TAP gold testers. On Thursday, August 20th 2009, the Windows 7 Release Candidate download was removed from Microsoft's website. Product keys for the Release Candidate were available until October 21, 2009.
Official Release Of Windows 7
On 24 July 2009 Microsoft released Windows 7 to OEMs (original equipment manufacturers and system builders) online, followed by MSDN and TechNet Subscribers via download and Microsoft Connect on 6 August 2009. Since the next day, 7 August 2009, companies which bought Software Assurance have been able to download Windows 7 RTM.
Since 16 August 2009, Windows 7 is available to Microsoft Certified and Gold Certified Partners, followed by Microsoft Action Pack subscribers on 23 August. Microsoft has also announced that companies which have a contract with Software Assurance may acquire Windows 7 became available for volume licensing on September 1, 2009. Windows 7 was released to the world  on October 22, 2009.