38 Tutorials

Updated 03/24/19
Windows 10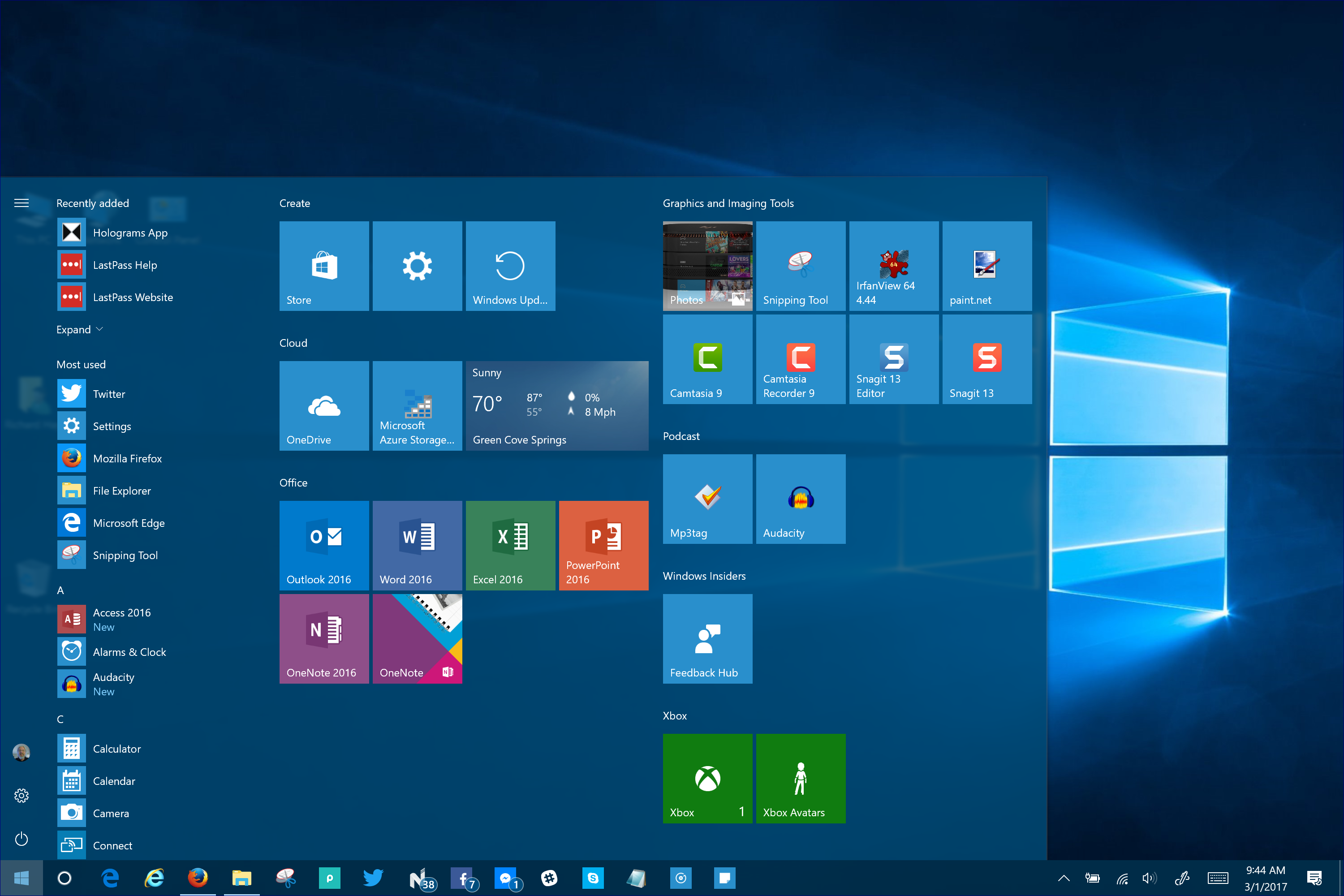 Windows 10 was officially released to the public on July 29th, 2015. Windows 10 is available in six editions e.g. Windows 10 home, Windows 10 Pro, Windows 10 Enterprise, Windows 10 Education, Windows mobile, and Windows Mobile Enterprise. To encourage the adoption of Windows 10, Microsoft offered a free upgrade to users using Windows 7 and Windows 8 that free upgrade expired in July 29th, 2016, but If you have a relatively new computer running Windows 7 or Windows 8 you can still perform the upgrade for free. Download the Windows 10 creation tool ( you will need a USB thumb drive ) to perform the upgrade.
Windows 10 is a completely new operating system compared to Windows 7 and a big improvement from Windows 8. One of the biggest complains people had about Windows 8 was the touch screen oriented design. Windows 10 comes with a traditional desktop interface like Windows 7, but it also gives you the option to turn the desktop into "tablet mode" if you have a touchscreen enabled device.
Microsoft has marketed the Windows 10 operating system as a service which means improvements and new features will be rolled out as updates. If this is the case, most likely Windows 10 will be the last Windows version that will be packaged and released as standalone.
Microsoft new update release cycle for Windows 10
With this new release cycle, Windows 10 will receive two big updates a year. One in March and the other in September. These releases are called "feature" updates because they will contain features that will impact the experience and capabilities of the operating system. Each feature update will be packaged as standalone ISO image, meaning you will be able to burn it to a DVD or USB drive and install it on a computer. If you have Windows 10 already installed then the OS will be simply updated.
Each Feature update will be supported for 18 months after its release, and you cannot skip updates. For example, if you updated your Windows 10 computer in September 2017 with the fall creator update, but skip the update in March 2018, you cannot install the fall update in September without installing the March update first, unless you install Windows 10 from scratch of course.
Windows 10 Features
Live Start Menu The biggest change in Windows 10 from Windows 8 is the return of the Start menu. But unlike the traditional start menus, we got used to in Windows 7 and previous releases, the start menu in Windows 10 features live tiles with live app updates.
Windows Store Another thing that was rethought from Windows 8 is the Windows Store. The Windows store is now a standalone application instead of opening in full screen as it does in Windows 8.
Cortana is the Siri or Google Now from Microsoft. it replaces the search function on your computer, and responds to voice commands, and has complete access to your personal information.
Task View Another nice feature in Windows 10 is task view. task view allows you see all the programs opened on your computer at once
Virtual Desktops Another cool feature in Windows 10 are Virtual Desktops. with virtual desktops, you can create multiple screens and have different applications open on each screen.
Action Center Action center in Windows 10 is basically a notification center. All apps and system notifications are posted in the action center.
Redesigned Core Apps All core apps in Windows 10 like Mail, Calendar, File Explorer, etc. were revamped. they look and work much better now
Microsoft Edge is a new minimalist browser included in Windows 10 by default. It is also the default browser in Windows Mobile, Xbox One, and other Microsoft devices replacing Internet Explorer. Microsoft Edge was built from scratch using a proprietary engine called EdgeHTML. Edge is designed to be lightweight supporting theming, annotation tools and native reading mode.
Windows 10 Fall Creator Update
Windows 10 fall creator update was released on October 17th, 2017, and includes many refinements and new features. One of the new less talked features in this update that I find interesting is the new design initiative from Microsoft called FLUENT DESIGN. Windows has never been an attractive operating system in my opinion, but with this new design plan, I think Microsoft is bound to change that. Only a few native applications like the calculator, Photos, and Store app feature this new design in this release, but I'm sure more applications will start adopting it.
Another significant update was the stable release of the "Windows subsystem for Linux" and the native support of SSH  
Other significant features include People Integration – The ability to pin individual profiles from different social apps i.e. Skype, People, Email, etc to the taskbar:
Edge does not support ActiveX, but it supports extensions that are distributed through the Windows store. Internet Explorer is still included in Windows 10 as legacy support.
There are many more features and small refinements in Windows 10. Below you will find many step by step tutorials on how to do certain things in Windows 10.