Windows XP RDP Error When Connecting to Windows Server 2008
when using Remote Desktop on Windows XP to connect to a Windows 2008 Server you might get the following error:
The remote computer requires network level authentication, which your computer does not support. for assistance, contact your system administrator for technical support.



Network Level Authentication is a new authentication method on Windows Vista and Server 2008 that completes user authentication before you establish a Remote Desktop connection and the logon screen appears, and apparently windows XP does not support this new authentication method, even when using the latest RDP client.
to be able to login to Windows 2008 server from a  Windows XP machine using remote desktop, we need to uncheck the option that requires network level authentication on windows server 2008. to do that, login to your server and right-click on My Computer icon, then go to properties. under the task panel, click on the remote settings. choose, Allow connections from computers running any version of Remote Desktop (less secure) from he system properties window.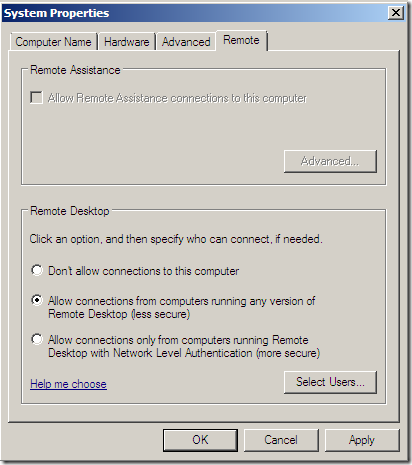 click on apply, then OK.
try Remote Desktop again. it should work.
Was this helpful?
0 people found this helpful
More Windows XP Tutorials