Open Source Software To Build Social Networking Sites
Are you thinking of building a social networking site but don't have the big bucks to develop or buy a proprietary social networking script ? then don't worry, you can start building the next Facebook right now because there are many robust open source social network platforms you can use to make your dream social networking website come true.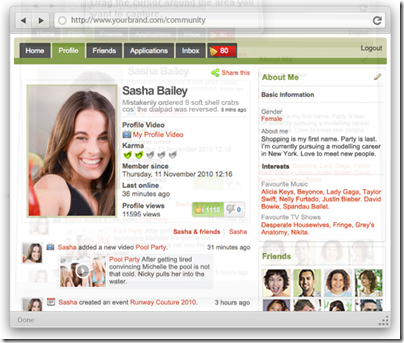 built on top of the famous and robust Joomla engine, Jomsocial is one of the easiest to setup and heavy feature packed open source social networking engines out of there. with Jomsocial it takes less than 30 minutes to have a functional networking website up and running.
Features Include:
Four default templates included.

Robust Photo gallery management

Hot linking from video provider websites supported, or upload own videos option.

Friend Activity stream like Facebook with spam control filter

Facebook sign up option ( people can sign up using their Facebook info )

Full profile page and a lot more
Elgg – Open Source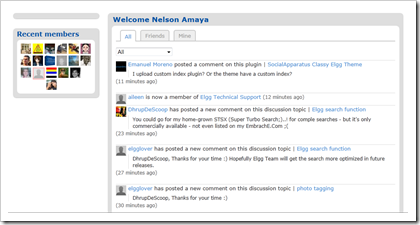 Elgg is an award-winning open source social networking engine that provides a robust framework on which to build all kinds of social environments, from a campus wide social network for your university, school or college or an internal collaborative platform for your organization through to a brand-building communications tool for your company and its clients.
features include:
Powerful Data Model – Elgg provides a powerful data model making the creation of different entities simple, yet flexible.
Activity – StreamsThe granular activity stream API ensures your plugins can push the required content to your users.
Plugin API – Use Elgg's powerful plugin API to build and add your required features.
User Management – Elgg handles your user management and relationship requirements.
Access controls -All objects in Elgg can have an access control level applied making granular access permissions possible.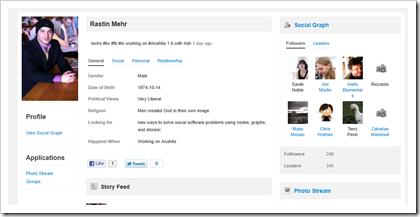 Anahita™ is a developer friendly and open source social networking engine for building the very foundations of your social web project or business idea.
key features include:
Essential social networking features upon installation
Lead, Follow, Mutual (LFM) Social Graph
Story Feeds
Ability to block unwanted people
Dashboard
Comments
Geolocation Support
Translatable User Interfaces
Fully Customizable Look & Feel
System and Email Notifications
Powerful CMS Functionality
Extend Anahita™ Using Custom Social Applications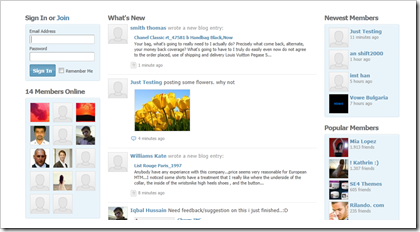 SocialEngine is a feature-rich white label social networking application built to support almost any concept.
Features Include:
No "powered-by" branding.
Fully unencrypted source code
Drag-and-drop Content Management
Membership levels and moderators
Buy third-party plugins and themes
Boonex – Open Source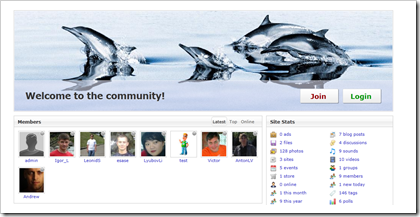 open-source, downloadable, scalable, customizable, full-featured, independent and free software package for building social networks, dating sites and niche communities. Dolphin is the only "all-in-one" bundle of PHP community scripts, Flash plugins, Adobe AIR and Mobile apps that provide full control, freedom and flexibility. Launch your site, customize it and watch it grow!
Features Include:
Memberships and access levels
Extensions, Plugins, Add-ons…
Packed with thousands of social networking and online dating site features.
Mobile, interactive, fast and secure community software.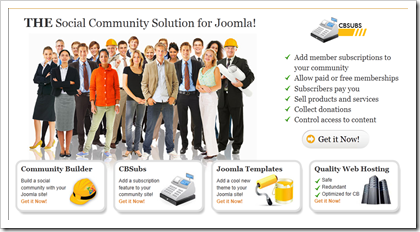 Add Social networking to your own website, fast and easy with Joomlapolis Community Builder, 'CB'. CB, the most popular and comprehensive social networking solution gives you all the tools and usability needed to grow and maintain your website community. Let members search for other members, facilitate member interaction, they will want to keep coming back to your site. Extended member registration functions, profile image uploading, membership content creation, messaging, moderation, reporting and more! Open source, many plugins available and Joomla version independent.
Features Include:
Works natively with all stable flavors of Joomla!TM and Mambo
Know your members with categorization, lists and reporting features
Encourage member interaction with member connect features (search, messaging, more!)
Enable members to create content on your website
Empower key members to be moderators, 'front-end' moderation available!
Fully translatable language options (front and back)
Create your own brand by integrating any CB commercially available template plugin
Additional add ons available
Scalable, reliable, robust, secure
Open source with GPL
And CB is free!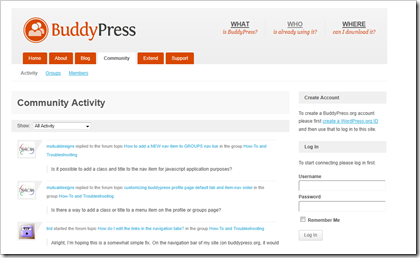 BuddyPress was conceived in 2008 while working to add social networking features to a WordPress MU powered site. The first official stable release was in May 2009. The platform has grown and morphed considerably since then, into the dynamic, easily extensible package you see today.
Features Include:
Activity Stream
Extended Profiles
Friend connections
Private Messages
WordPress Integration
Extensible Groups
Discussion forums
If you're a WordPress plugin or theme developer then you already know the fundamentals of BuddyPress. You should be able to start building and designing for BuddyPress with very little extra work.
Was this helpful?
2 people found this helpful
More Web Development Tutorials