1 Tutorial

Updated 02/22/18
Alfresco Tutorials
Alfresco Content Services is a Document Management System (DMS ) available in two versions; Enterprise and Community. The Enterprise version of Alfresco is commercial and cannot be used without buying a license while the Community version is Open Source and freely available from the Alfresco website to download. Alfresco Enterprise is available as On-Premise, Cloud and Hybrid mode. Alfresco Software ( the company that developed the software now called Alfresco Content Services ) was created by John Newtown and John Powell in 2005. They released the first version of the software that same year.
Difference Between Alfresco Enterprise & Community Version
The major difference between the two is that in the Enterprise version you get an official predictable update/upgrade cycle and official technical support from Alfresco. Also, there are some premium features and Add-ons ( clustering, additional admin tools, and Desktop Sync,etc. ) that are only available in the Enterprise version. Whatever version you choose depends on your needs and the technical and financial resources you have available I believe.  If you only need to use Alfresco for a small group of people ( under a 100) and you are technically savvy, especially with the JAVA ecosystem then the Community version can be your best choice.
Alfresco Content Services Front-End Features
The best feature about Alfresco Content Services, in my opinion, is its simplicity – a rare commodity in today's software. Unless you have unique requirements implementing Alfresco, the software is pretty much ready out of the box. There are only 6 tabs in the latest release of Alfresco Content Services which is version 5.2.2 and those are:
My Files ( Files and only visible to you )
Shared Files ( Files you have shared with others )
 Sites ( Sites are pretty much workspaces in Alfresco )
Tasks ( Workflows )
People (self-explanatory)
Repository ( access to advanced capabilities )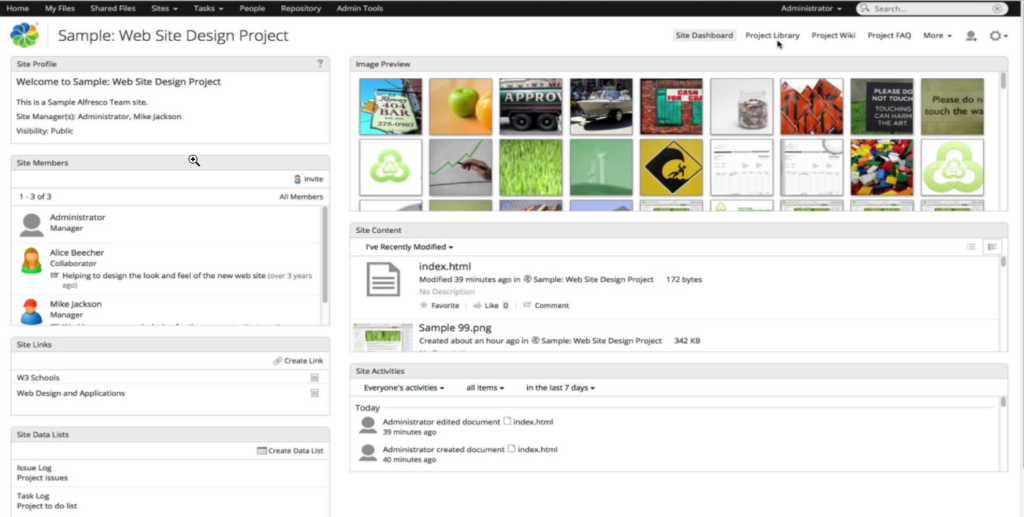 Sites are where most of the action happens in Alfresco. You can setup Sites based on departments or projects, and then people can share files, and other content through that Ste. BTW, I don't know why Alfresco hasn't changed the name "Sites" to  "Workspaces" instead of as it would be more appropriate in my opinion. Sites are customizable, you can theme them, and add additional components like Calendar, Wiki, Blogs, Discussions, etc. to it. Everything you do in Alfresco is audited, and files are not permanently deleted right away, instead, they are sent to a "trash bin" where they are kept for 14 days ( default setting )  before they get deleted permanently. Every user gets its own profile by default in Alfresco and can add basic information like contact and company details. The Dashboard is also very customizable through custom "widgets" called Dashlets.
Once a Site is created in Alfresco, then you can invite members to join it. By default, there are four roles to control permissions on a site:
Managers ( have full rights to all site content – what they have created themselves and
 what other site members have created.)
Collaborators have full rights to the site content that they own; they have rights to
 edit but not delete content created by other site members.
Contributors have full rights to the site content that they own; they cannot edit or
 delete content created by other site members.
Consumers have view-only rights in a site: they cannot create their own content.
You can also set permissions at Folder or file level.
Files can be viewed within Alfresco thanks to the LibreOffice engine that runs in the background, but if you want to edit a file you need to either download it and open with a local file editor like Microsoft Office or use Google Docs which an Add-on that comes with Alfresco.
Alfresco Content Services Back-End Features
I won't lie, I'm not the biggest fan of Alfresco backend stuff, because of my disdain for JAVA but like I said, if you don't have crazy custom requirements to implement alfresco there is very little code touching that you have to do. Because of Alfresco JAVA dependency though, it is cross-platform which means that it can be installed in Linux, Windows and Mac OS. You only need to have JAVA installed. Alfresco supports multiple user authentications including the most popular in businesses; LDAP. It supports most popular DB engines, Postgres, MySQL, MariaDB, MS SQL, etc.
Alfresco Content Services vs Microsoft SharePoint
I'm sure that if you are doing research on Alfresco you are probably considering Microsoft SharePoint as well. I'm not very familiar with SharePoint, the last time I installed it and play with it for a while was a few years ago, at that time I found SharePoint kind of bloated and very convoluted to use out of the box. Unlike Alfresco SharePoint needs a lot of customization to make it user-friendly I believe. I did play with SharePoint in Office 365 recently and I found that to be easier to use. Alfresco is popular because is way cheaper and more user-friendly than SharePoint. Unless you get subsidized prices for Microsoft licenses you will pay a lot of money to implement SharePoint in a large organization than Alfresco