Turn off File Explorer's Quick Access view in Windows 10
By default when you open Windows file explorer in Windows 10 it comes up as quick access mode:

If you want the file explorer to open the traditional way do this. open File Explorer and click on View then click on Options:

then on Open File Explorer to change the view to This PC and click OK.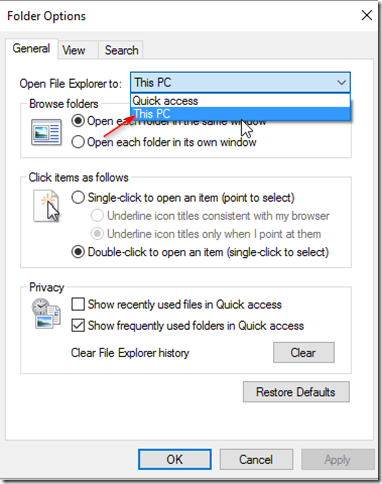 When you open File Explorer next time it should open straight to This PC instead of displaying the recently open stuff.
0 people found this tutorial helpful
0 people found this article helpful
More Windows 10 Tutorials
My name is Nelson Amaya and I'm the author of this website. I created the site in 2009 (under the forevergeeks.com domain) and I've been posting tutorials here ever since. I'm a systems / network administrator and I enjoy solving complex problems and learning as much as I can about new technologies. I write tutorials based on my work experience and other IT stuff I find interesting.